Most long-term Peugeot enthusiasts rate the 404 and 504 coupes as the finest looking vehicles ever to wear the lion badge. The 404 was restrained, classical and typical of the 1960s, while the 504 looked good enough to wear a far more prestigious badge. In fact, in mid-1970s chrome-bumpered V6Ti form, the 504 Coupe is perhaps one of the prettiest shapes ever penned by the Italian styling house, Pininfarina. And remember that the same stylist can include the Ferrari Dino 246 GT and the Alfa Romeo Duetto in its portfolio.
The 504 had a long life (right up until 1983) but after that the upmarket coupe sector was temporarily ignored by Peugeot, the 505 Coupe was designed but never made it to the showroom. But then the 406 resurrected the idea of a flagship, sporty coupe in the line up and came with gorgeous flowing lines and again the Pininfarina badge on its flanks. The two-door 406 shared little with its saloon sisters and, like the 504, it had a V6 engine to give it the performance to match its style. Style that was compared favourably at the time to the Ferrari 456. And this time production volumes were considerable, not the hundreds per year of the earlier (virtually hand-built) cars.
Of course, Peugeot still have a big coupe in the range, the 407, but this latest generation was styled in-house and the link to the saloon is clearer to the eye. Breaking with the Italian connection has also brought a more aggressive look but one that is perhaps less classically beautiful. I attended the UK launch in 2006 (the 406 was a very hard act to follow) and, surprised by the hefty price tag of the top-of-the-range V6 HDi versions, remember being slightly disappointed by the car's appearance. And there was a further break with tradition. While the 406 had been offered with a 2.2-litre diesel, the one to have was always the 3-litre V6 petrol. This time, the top spec model was a diesel, a 2.7-litre V6 with 205bhp and an amazing 330 lb/ft of torque. A petrol V6 was still in the range but it couldn't compete with the mix of power and economy offered by the big HDi, a unit that is closely related to the one in Jaguar S-types (and the new XF) and Land Rover Discoveries.
Fast forward to 2008 and there seem to be a few more 407 Coupes on our roads, the model being sufficiently rare to be exclusive but well enough known not to be a sales flop. Time, then, to spend a week with one and see what it's really like to live with. Which one did I book? Silly question, really. The four-cylinder 2.2 petrol and HDi 136 diesels seem a bit limp-wristed for such a butch-looking car, while the 3- litre V6 petrol is going to be an option that very few buyers will take these days. No, there is only one Coupe to have, the V6 HDi.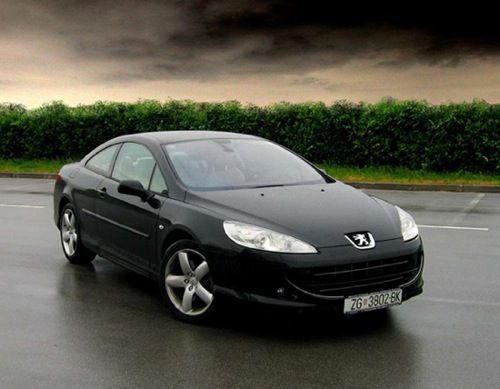 When it arrived at home I was stuck at the office and Jo phoned to say that our test car was black. Now I'm no fan of black cars, memories of ever-lastingly polishing a back 104 ZS perhaps, but all I can say is wow! Black, or should I say Nera Black Metallic seems to be the 407s colour. Combined with dealer-accessory 19-inch wheels (a pricey £1737 fitted but very eyecatching), this car looked superb.
Open the big doors, heave them open because they are like bank vault doors for weight, and inside the Ceber red (burgundy to you and me) leather further adds to the wow factor. Forget your bland German coupes from Audi and BMW, this thing has style. Unlike a lot of two door motors it also has four proper seats, four, note, not five as there's no central rear seat. Leg and headroom in the back is fine for adults, even tall ones, and the boot swallowed the pram with ease. It also coped with a generous supply of cheap French booze when I took it on a day trip to Boulogne. This is definitely a car for long distance touring.
We didn't have time from a transcontinental blast (sadly!) but that quick nip across La Manche really proved the type of car that this big, and it is BIG, coupe is. I left home on Friday night (to meet up with a friend en route) to battle with the A1 and North Circular after a long, long week. And I actually arrived in Surrey fresher than when I left Lincolnshire. The large seats adjust every which way, electrically of course, and are VERY comfortable. The stereo is of Albert Hall quality. Parking sensors front and rear make town driving a doddle and the automatic gearbox slurs the shifts very proficiently, which is just as well because the V6 diesel cannot be specified as a manual.
Despite a 1.8-tonne kerb weight, the new Coupe is also considerably quicker than its 0-60mph time of 8.5 seconds implies. This really does feel like a fast car. But whilst it covers ground with impressive pace, it is far more of a GT than a sports car. Just like other Peugeot coupes before it. And a welcome change from hard-riding and firm-seated German rivals.
So, far from disappointing, the 407 Coupe is actually the finest new Peugeot in quite a while as long as you order the V6 HDi. I was very sorry to see it return to Peugeot and even before it left my driveway I found myself perusing the Peugeot website looking for used examples. You can find them with this engine for £17k with SE spec. The only trim option now is Sport (whichever engine you choose) but there are very few options. Only the metallic paint, electric leather seats and 19-inch wheels added to the list price of our car and that is less than the SE version cost when the Coupe was launched.
I might yet be tempted to dip my hand in my pocket for this handsome brute after all, Jo loved it too, and whilst I was wooed by the driving, she loved all the toys including the built-in phone system that actually reads out your text messages!
A car then that impresses on many levels.